9 Best Staycation KL With Pool
After a long and hectic week, you deserve a much needed break that requires minimal packing and planning. A staycation within the city could just be what the doctor ordered. Here are some of our favourite staycation picks within the Klang Valley area with pools to dip in and lounge by (absolutely necessary in this heat, if you ask us). Just pack along some of your favourite Lulla loungewear pieces and you're good to go!
Best Staycation in KL With Pool
1. Sekeping Tenggiri
 

 

View this post on Instagram

 
Looking to get closer to nature, without leaving the city? Enter Sekeping Tenggiri, which is located in Bangsar but tucked away from the hustle and bustle. Designed by the acclaimed Malaysian architect Seksan, you'll easily forget that you're just a stone's throw away from all the good restaurants, cafes and supermarkets in the Bangsar suburb. The place features 7 airy rooms, modern amenities like WiFi internet access, fridge and oven toaster as well as around the clock housekeeping service. There's also a beautiful glasshouse and also an outdoor swimming pool for you to take a dip and unwind. 
Book here. 
2. Zoo Villa by Cobnb
 

 

View this post on Instagram

 
Planning a trip to the zoo and want to make a special weekend out of it? Check out Zoo Villa that's located a few minutes away from Zoo Negara. This modern double storey property offers up to 5 bedrooms that can accommodate up to 13 pax, which makes it perfect for a fun staycation for the whole family. Stretch out and breathe in nature – the indoor pool is surrounded by floor-to-ceiling windows which brings the outdoors in for the picture perfect forest view. 
Book here. 
3. Villa Samadhi
 

 

View this post on Instagram

 
 Smack bang in the heart of the city, entering Villa Samadhi akin to being transported to a villa in Bali – except you won't have to go through the hassle of going to the airport, flying there and – quarantining (14 days! Eeep!). This romantic villa located but a few minutes away from the Petronas Twin Towers is also a stone's throw away from KL's trendiest restaurants, bars and attractions (we'll save that for another post!). Book one of the rooms on the ground floor, and you'll likely to get one that opens up to the blue lagoon pool. For extra privacy, The Loft features a private outdoor pool as well as a rain shower. 
Book here. 
4. Halaman Boutique Guesthouse
 

 

View this post on Instagram

 
If you're looking to book a staycation in KL with pool for a bigger group, the Halaman Boutique Guesthouse is a bungalow that can accommodate up to 10 guests. Nestled 20 minutes away from the city center, Salak Selatan LRT station is just across the road from this property – so you can zip into the city at a moment's notice if you wanted to. With up to four bedrooms and a one-metre deep swimming pool, makes it the great getaway for families with kids to get together and reconnect. 
Book here. 
5. 16P, Corner Bungalow On Hill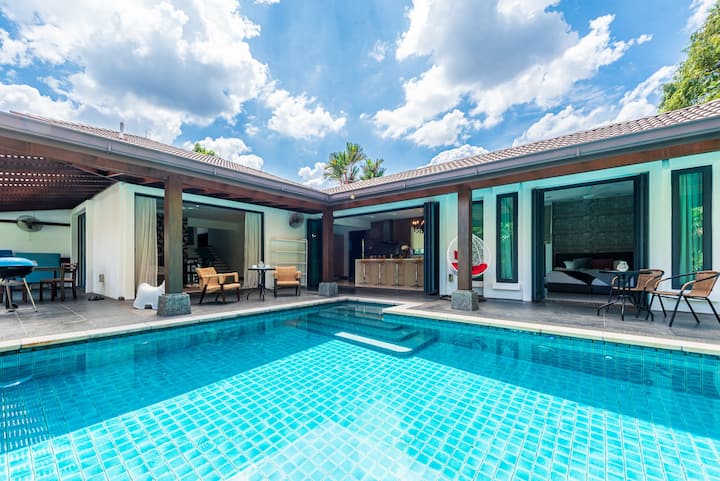 How'd you like to stay in one of the coolest neighbourhoods in the world? Pegged just that by Lonely Planet in 2017, Damansara Heights is where some of the country's most affluent reside. Nestled within a leafy corner, just a few minutes walk from trendy cafes and restaurants, is 16P Corner Bungalow on Hill, a three-storey, 6 bedroom, 6 bathroom bungalow that will give you privacy when you want it and accessibility to nearby conveniences when you need it. 
Book here. 
6. Pandora Spring Villa
 

 

View this post on Instagram

 
Looking for the best staycation KL with pool to host an event of a seating capacity of up to 300 guests? The Pandora Spring Villa would be the perfect choice for you! This bungalow offers up to six bedrooms with attached bathrooms, suitable for 16 guests to stay. As for entertainment wise, there's a snooker table aside from the private pool and even a baby pool for kids. 
Book here. 
7. Hartamas Pool Villa
 

 

View this post on Instagram

 
For ample entertainment, they offer a large swimming pool, a television as well as a karaoke system to sing your hearts out! There's up to four bedrooms, suitable for any company team building event or a quiet gathering among your loved ones. If you're using the BBQ pit or hanging out outdoors, they offer a portable air-conditioner too. 
Book here. 
8. Villa Sri Ananda
 

 

View this post on Instagram

 
A comfortable resort situated in Kuala Lumpur to have one of the most relaxing holidays with your loved ones, hosting up to 16 guests. Swim some laps in the 15m lap lane in the L-shaped pool or hang out in the main hall. Oh, and if you have pets, there's a dedicated gated 'dog-zone' so you can bring your furry friends along! 
Book here. 
9. 113 IKON Garden Home
 

 

View this post on Instagram

 
Located in Taman Tun Dr Ismail (TTDI), this contemporary home accommodates up to 8 guests with 3 bedrooms. Perfect for days and nights lazing about indoors as they provide free Wi-Fi and Chromecast for you to binge watch the latest series (or LOTR marathon, anyone?) with your favourite people. Of course, there's also a private swimming pool for everyone to dive in after exploring the city during the day. 
Book here.